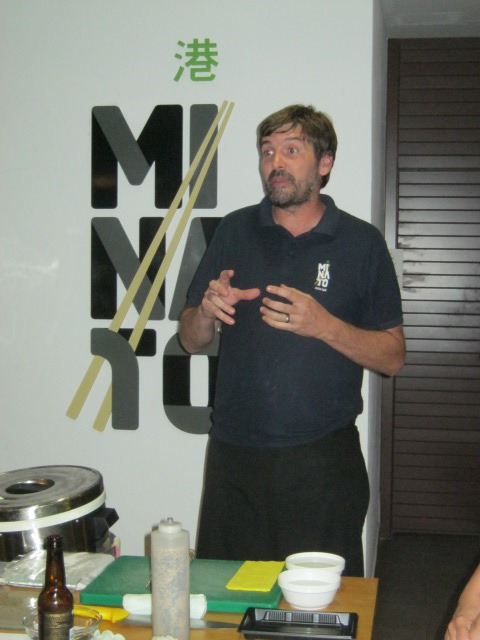 This is by far my favourite sushi place in the island.  Sushi Bar Minato Lanzarote is in Puerto Calero, on the second floor directly opposite Las Carpas. Minato means port in Japanese and in their culture, it's a meeting point.
I must admit I wasn't a great fan of sushi to start with, it was more of an acquired taste for me.
I first got to know them during the Wine Run in 2013 where I learned about their «Chacho Maki», which is a maki with Canarian twist with cherne, crunchy batata and mojo.  Another must, in my opinion, is the Algae salad, which has also tuna on it and a secret sauce that will have you licking your fingers.
For those not too keen on raw fish, there is always the tempura makis, salads, soups and noodles.
All of that can be washed with either some local wines, which surprisingly work very well with the food, or some Japanese beer – they've got a few different brands.
And don't even get me started on the unusual but scrumptious desserts!
The staff are very friendly, willing to talk you through the menu, explaining all the choices and specials (don't forget to ask for the specials!).
Also Wednesdays are»Ladies Day» with a 20% discount on all female parties. Perfect for that mid-week female gatherings, whether it's a cheeky lunch or an evening dinner with your gals.
And not only do they make the most amazing sushi on the island, but they also teach you how to make it!
Workshops are normally held on a Tuesday but if there is a minimum group of 4 people, it can be arranged at another suitable time. And for English only speakers they provide a translator too.   Initially I thought it was a bit expensive at €45 per person. But you get to take home all the sushi you make on the night and it includes a rather generous sampling dinner afterwards where you get to try different things to the ones you've made.  All the information and recipes from the workshop are also sent to you by email so,  on the night, you can concentrate on the demonstrations rather than miss the crucial explanations and tips while taking notes. I did it with a group of friends as a present for another friend and it's really good fun.  I definitely recommended giving the workshop (& sushi!) a try.
Sushi Bar Minato is open Tuesday to Sunday from 14:00 to 23:00. Telephone: 928 94 41 90
Fuente http://www.lanzaroteinformation.com/content/lanzarote-restaurant-review-sushi-bar-minato